Leading Provider of innovative technologies
Innotec hygiene solutions
For a safe and healthier environment across a broad spectrum of market sectors
who are


Innotec Hygiene solutions
Innotec Hygiene Solutions Limited is a key provider of Innovative Technology offering hygienic solutions to a broad spectrum of environments through a strategically assembled product portfolio.
Established in December 2011 – Innotec was nominated as Oxy'Pharm's Distributor Partner for Great Britain. Oxy'Pharm manufactures and distributes biodegradable devices and products for automated surface disinfection and disinfestation.
Since its introduction to the UK in 2011, Nocotech has quickly established itself as one of the leading brands of airborne decontamination products in the UK today. Nocotech's numerous and unique attributes have been recognised and invested in by a plethora of major end users who now reap the benefits of its innovation. Over 90% of existing customers ALL previously used a competitor system.
Efficacy and
Compatibility
Based on biodegradable chemicals, Nocotech delivers a fully automated whole room decontamination process, including surfaces, airspace and areas inaccessible to manual procedures. Utilising the power of Hydrogen Peroxide, the system diffuses a dry gas capable of neutralising even the most resistant pathogens, to a Log 6 reduction and greater, without harming sensitive electronics equipment, fixtures or fittings.

– Healthcare
– Pharmaceutical
– Food Manufacturing
– Veterinary
– Transport
– Hospitality
– Leisure
With Disinfectant, Deodoriser and Insecticide solutions.
Validated ≥ Log 6 reduction vs Geobacillus by UK-based world leader in Life Sciences
Researchers at Cambridge University's new Biofacility publish a Scientific Poster detailing their rigorous independent validation case study for decontaminating their Containment Level 3 (CL3) laboratories using Oxy'Pharm Nocotech. Click below to download their findings.
Innotec Hygiene Solutions Limited are the UK partner for Oxy'Pharm, world leaders in airborne, whole room decontamination. To see their innovative Nocotech range please click here :
Ellen Ashton
Hotel Services Manager
As we're able to turn rooms around more quickly it eases bed pressures in the trust. Oxypharm is efficient and effective. Each machine is a third of the price of the larger hydrogen peroxide equipment we were using previously, so it makes economic sense too. The overall running costs with the chemicals show savings too. The system also fitted in with the Health & Safety policies and procedures that we had already created for the management of hydrogen peroxide
Helen Forrest
Lead Nurse, Infection Prevention and Control
It does exactly what it says on the tin. We've found we can turn a four-bedded bay with an en suite round in an hour. The curtain goes to the laundry, and we do a normal deep clean using the chlorine releasing agent with a disposable cloth. One of the decontamination team sets up the machine and it does its work. It's given us the ability to have an enhanced deep clean service, with minimal disruption in the ward areas. I believe it has a positive effect in reducing the spread of norovirus in our ward areas and helps prevent its return.
Please feel free to get in touch with one of the innotec team…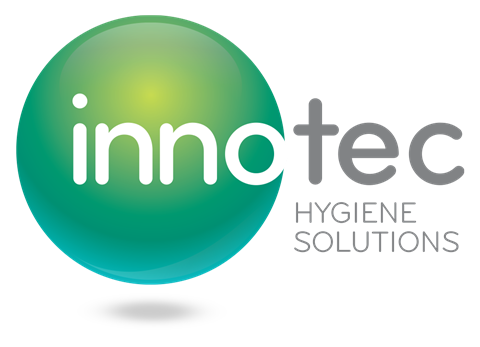 Monday-Thursday : 9:00 – 17:00
Friday : 9:00 – 13:00
Saturday : Closed
Sunday : Closed
Get in touch with

The Innotec Team
For any enquires regarding any of the Innotec product range or for any questions you may have please get in touch in the form below.