More machines across a wider market spectrum
Around this time last year, The new Oxy'Pharm logo stood tall and proud above the double booth of the IPS Conference in Manchester where the next generation Glosair was on show one side and the Nocotech range comprising the Nocospray and Nocomax machines on the other.
The launch of the revamped logo was timed to coincide with the introduction of the new sub-brands Glosair and Nocotech – a necessity born out of Oxy'Pharm's recent acquisition and development programme.
The acquisition of Glosair to the range offers a choice of high technology interface additional to the simplistic functionality and mobility of the Nocotech machines – the Nocospray and its larger sister, Nocomax.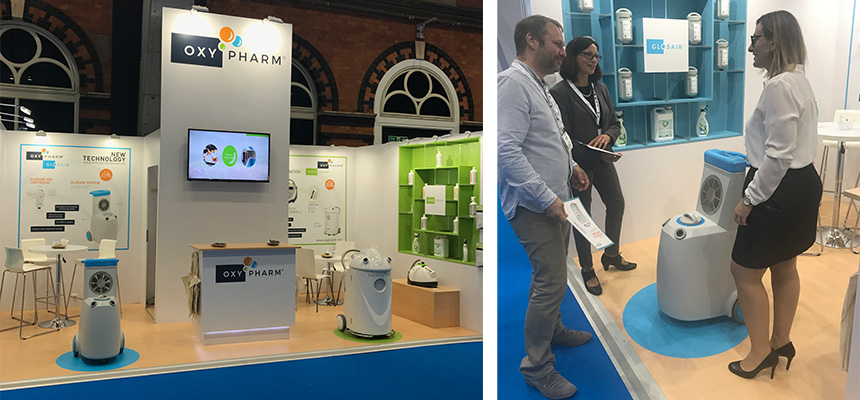 The twelve months since then has seen significant further growth not only in the traditional stomping grounds of Healthcare but to a number of new markets wishing to embrace the unique development of the ionising turbine machines utilising hydrogen peroxide technology. Additional to what is generally believed to be the largest number of machines within the UK Healthcare Sector provided by a single manufacturer – Innotec has taken the Oxy'Pharm concept into the Food Sector, Pharmaceutical environments, Hatcheries, Hospital bed decontamination and Laboratory furniture and fume cupboards to name but a few, such is the versatility and ease of use of the Oxy'Pharm systems.
The range of markets is further increased via Innotec's Managed Service partners who seek out niche markets requiring a high level of disinfection on an ad hoc basis whilst comfortably fitting within the end users' budget – the number of applications is wide ranging to say the least.
Please get in touch with us if you would like any more information on our Managed Service offer.