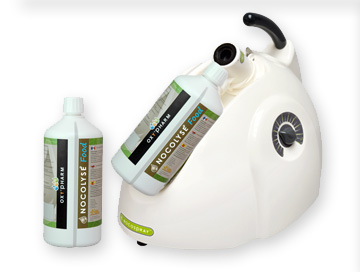 [dfd_spacer screen_wide_resolution="1280″ screen_wide_spacer_size="50″ screen_normal_resolution="1024″ screen_tablet_resolution="800″ screen_mobile_resolution="480″ screen_normal_spacer_size="50″ screen_tablet_spacer_size="50″ screen_mobile_spacer_size="50″]
The Launch of Nocolyse Food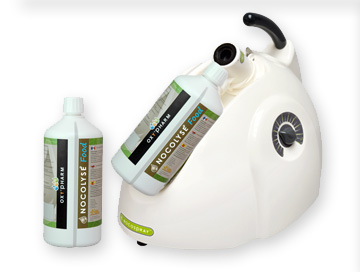 The launch of Nocolyse Food has been hailed as a major addition to Innotec's range of the Oxy'Pharm Nocospray/Nocolyse system.
Nocolyse Food launches as a bespoke new generation of biodisinfectant, based on hydrogen peroxide and ascorbic acid, to treat surfaces in contact with food. As with the other Nocolyse products in the range, it is a ready for use aqueous solution that is proven to be Bactericidal, Sporicidal, Virucidal and Fungicidal.
Nocolyse Food was formulated by Oxy'Pharm 3 years ago to enter the Food Industry with its innovative Nocospray/Nocolyse combination of total room 'no touch' airborne decontamination. The key aspect with Nocolyse Food is that it is safe to use in and around areas which come into contact with food such as food manufacturing, storage and transport. Accordingly it is ideally suited to markets such as chicken farms, hatcheries and other similar stringently controlled food production environments.
Whilst airborne diffusion of Hydrogen Peroxide is common place in Healthcare environments, most chemicals in this regard are not permitted for use in the food industry due to the presence of non-permissible elements of their composition – Nocolyse Food however, has been developed bespoke to the food industry criteria to enable the diffusion of the hydrogen peroxide decontamination in combination with food safe stabilizers.
To date, Nocolyse Food has seen major breakthroughs in Oxy'Pharm's home country France, plus now also into a growing number of other countries following their introduction and presentation of administrative documentation to the respective governing bodies which ultimately permit its use upon assessment and judgement of its composition and safety of use within numerous markets.
As a part of the requisite documentation, Oxy'Pharm engaged in numerous independent test reports and studies into the efficacy of Nocolyse Food – the results of which are extremely impressive routinely delivering a minimum log reduction of 5 and in some cases in excess of 7 dependent upon the target pathogen, concentration of chemical and wait time. These efficacy studies may be made available to interested parties upon application.
[dfd_spacer screen_wide_resolution="1280″ screen_wide_spacer_size="50″ screen_normal_resolution="1024″ screen_tablet_resolution="800″ screen_mobile_resolution="480″ screen_normal_spacer_size="50″ screen_tablet_spacer_size="50″ screen_mobile_spacer_size="50″][dfd_new_share_module enable_facebook_share="yes" enable_twitter_share="yes" enable_googleplus_share="yes" enable_linkedin_share="yes" main_style="style-4″][dfd_spacer screen_wide_resolution="1280″ screen_wide_spacer_size="50″ screen_normal_resolution="1024″ screen_tablet_resolution="800″ screen_mobile_resolution="480″ screen_normal_spacer_size="50″ screen_tablet_spacer_size="50″ screen_mobile_spacer_size="50″]